Lessons learned from early intervention
There are many lessons to be learned in special education from early intervention practices with families. Models and principles of family functioning and service delivery have been developed to support effective practice in this area.
Aiming high for disabled children: better support for families (HM Treasury and DfES 2007) highlights the need for coordinated support at key transition points, services that can:
Prevent deterioration of health, stress on parents and siblings, and reception of children into care.

Provide equipment, short breaks, sleep programmes and support behavioural management.

Enable the sharing of knowledge and benchmarks of good practice (pp. 35-36).
Based on Newman et al, 2010
Initiatives in early intervention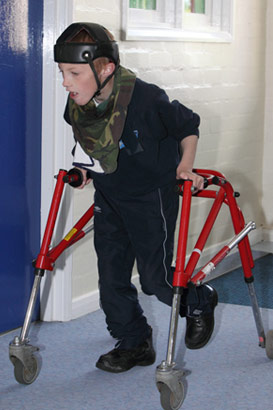 Useful initiatives in early intervention include:
Early Support

Developmental systems model

Coaching
Although these initiatives are focused on supporting children and families in the early years, their principles are relevant to all professionals working with children and young people with severe, profound and complex learning difficulties and their families.
Explore the implications of one of these initiatives in depth. What are the implications for the way you and your school works with families?
Development in early intervention

The agenda for development in early intervention:
The promise of technology

Play

Restoring bonds

Maximising family patterns of interaction

Specialist approaches

Peer interaction
Siblings

Recognising fathers

Involving whole families

Leadership

Workforce development

Strengthening the evidence base
Read the following short article on early intervention.
(Carpenter, in Limbrick 2007)
Have a look at the Sherborne Developmental Movement website.
The Developmental Systems Model

Integral to family systems theory is the primacy of the parent-professional relationship in which decision making and planning around mutually agreed upon goals are shared between parents and professionals who engage in a relationship defined by mutual respect, trust, and honesty.
Dempsey and Keen, 2008
Four key features of the Developmental Systems Model
To guide Early Childhood Intervention programmes for vulnerable children and their families.

To maximise family patterns of interaction.

To address potential stressors related to risk and disability conditions.

To advocate community-based services.
Guralnick, 2001
The Developmental Systems Model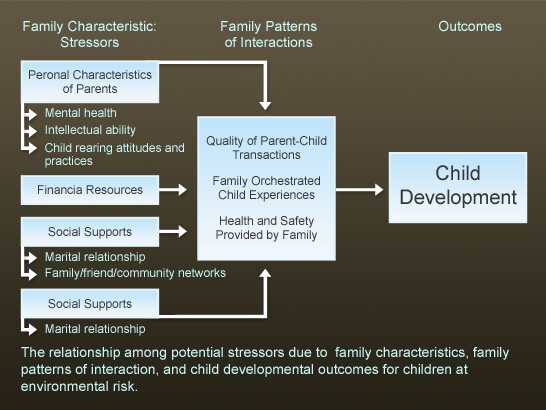 Taken from Guarlnick, 2001
Early intervention providers increasingly coach and collaborate with caregivers to strengthen and support caregiver-child interactions.

Coaching is:
Voluntary

Non-judgemental

Accountable

Collaborative
Hanft, Rush and Shelden, 2004
The 'coaching' process involves the family and the professional in:
Initiating

Observing

Acting

Reflecting

Evaluating
Espe-Sherwindt, 2005
References
Dempsey, I. and Keen, D. (2008) A review of processes and outcomes in family-centered services for children with a disability, Topics in Early Childhood Special Education, 28 (1), 42-52.
Online at:
http://tec.sagepub.com/content/28/1/42.full.pdf+html

Carpenter, B. (2007) Early Childhood Intervention: Evolving Contexts of Need, in Limbrick. P. (ed.) Family-Centred Support for Children with Disabilities and Special Needs, London: Interconnections.

Espe-Sherwindt, M. (2005) Another look at 'coaching' families: from theory to real life!, Paper given to Good Practices in Early Intervention Conference, University of Coimbra, Portugal (November).

Friedman, M., Woods, J. and Salisbury, C. (2011) Caregiver coaching strategies for early intervention providers: moving toward operational definitions, Infants & Young Children, 25 (1), 62-82.

Guralnick, M.J. (2001) A developmental systems model for early intervention, Infants and Young Children, 14 (2), 1-18.
Online at:
http://depts.washington.edu/chdd/guralnick/pdfs/dev_sys_model_EI_IYC_10_01.pdf

Guralnick, M. (2005) An overview of the developmental systems model for early intervention, in: Guarlnick, M. (ed.) The Developmental Systems Approach to Early Intervention, Brookline, MA: Brookline Publishing.
Online at:
http://depts.washington.edu/chdd/guralnick/pdfs/overview_dev_systems.pdf

Hanft, B.E., Rush, D.D. and Sheldon, M.L. (2004) Coaching Families and Colleagues in Early Childhood, Baltimore, MD: Paul H. Brookes.

Newman, T., McEwen, J., Mackin, H. and Slowley, M. (Barnardo's Policy and Research Unit) (2010) Improving the Wellbeing of Disabled Children (up to Age 8) and their Families through Increasing the Quality and Range of Early Years Interventions, London: Centre for Excellence and Outcomes in Children and Young People's Services (C4EO).
Online at:
http://www.c4eo.org.uk/themes/disabledchildren/increasingquality/files/c4eo_improving_the_wellbeing_through_early_years_full_knowlege_review.pdf