Siblings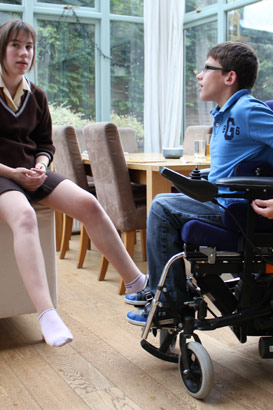 The sibling relationship is often the longest and most enduring relationship of the family, perhaps spanning thirty years longer than that of the parent-child relationship (Conway & O'Neill, 2004).

Whilst for many families with a disabled child the parents are the primary care-givers; siblings frequently take on secondary roles with varied levels of responsibility often including care (Harland and Cuskelly, 2000) and advocacy, roles which some will maintain into adulthood (Greenberg et al,1999).

Read more about the issues siblings face in the Contact a Family (2011) information booklet for siblings.


The sibling relationship
Emma's sister's role in the family.

Marley's brother Luke talks about his role in the family.

Marley's mother gives a brief description of Marley's relationship with his brother.
Listen to these short audio recordings describing the relationship a sibling has with their brother or sister with severe and complex learning difficulties.
What are their feelings towards their brother or sister?

What impact has their brother or sister had on their lives - benefits and disadvantages?
Action for Children
You feel a bit like the odd one out... You're asked to describe your brother and what hobbies he likes... Some of them aren't quite normal, are they? Flicking through catalogues!

Sibling, Conway and O'Neill, 2004
The complexity of the relationship between siblings is highlighted by the NCH Action for Children study (Atkinson and Crawforth, 1995) in which interviews were carried out with 29 siblings of children with disabilities. The majority (60%) said that they did not mind helping to care for their brother or sister, however the group also described:
Being embarrassed about their brother or sister's behaviour in public (70%).

Feeling jealous or angry at the time parents spent with their brother or sister (70%).

Having their sleep disturbed (55%) and sometimes feeling tired at school (45%).

Having difficulty in completing homework due to interruptions by their brother or sister (45%).

Feeling angry or upset because family outings were infrequent and limited (40%).

Having disturbed mealtimes (40%).
(Carpenter, 2007)
Grandparents
I suffered for him - for what he might have been, should have been. I resented what his birth had done to my lovely daughter.

A grandparent – Limbrick, 2009, p. 2
The birth of a child with a disability can be an emotional time for the whole family, not just the parents. This is particularly so for grandparents, who often experience a 'dual grief' not only for their grandchild, but for their own child who they may see as burdened for life. By experiencing their own mix of emotions, they may be unable to provide their children with the support they desperately need at this time (Adapted from Meyer, 2009 and Mirfin-Veitch and Bray, 1997).

Grandparents may struggle to come to terms with the diagnosis. This grief may be increased by their often outdated views of quality of life, special education and intervention and institutionalisation.
Grandparents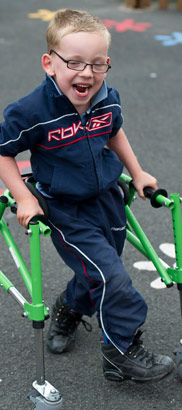 Grandparents may:
Feel pain in the realities of the child's disability and deep sadness when they are unable to help their children and 'fix' the problem.

Try to deny a grandchild's problem ('There's nothing wrong with him'), trivialize it ('He'll grow out of it'), or entertain cure fantasies.

Withdraw and be unable to look at, touch, spend time with, or even mention the name of the grandchild with a disability.

Feel disappointment that the child may not be able to carry on the family name, or enrich its history.
Read more about the issues grandparents face in the Contact a Family (2010) booklet on grandparents.


Support provided by grandparents

In many families, grandparents are a source of strength. They help following the birth of the child with disabilities, providing:

Emotional support
Sharing of feelings

Being non-judgmental

Being 'a Life Line'

Allowing space to talk
Practical support
Baby-sitting

Child-minding

Household chores

Financial support
(Mirfin-Veitch, B. and Bray, A., 1997)
References

References

Greenberg, J.S., Seltzer, M.M., Orsmond, G. I. and Krauss, M.W. (1999) 'Siblings of adults with mental illness or mental retardation: current involvement and expectations of future caregiving', Psychiatric Services, 50, 1214-1219.
Hames, A. and McCaffrey, M. (2005) Special Brothers and Sisters: Stories and tips for siblings of children with a disability or serious illness. Jessica Kingsley Publishers.
Harland, P. and Cuskelly, M. (2000) 'The responsibilities of adult siblings of adults with dual sensory impairments', International Journal of Disability, Development and Education, 47, 293-307.
Limbrick, P. with Meyer, D. and Thomas, J. (2009) 'An alphabet of helpful hints: G is for grandparents', TAC Journal, 2 (7)
Mirfin-Veitch, B. and Bray, A. (1997) 'Grandparents: part of the family'. In. B. Carpenter (ed.) Families In Context: Emerging trends in family support and early intervention. London: David Fulton.