Problems faced by mothers

'Mothers remain, in most cases, the primary carers [for their son or daughter with disabilities] and their engagement is vital to their children's development.'
Newman et al, 2010
In a study comparing 245 mothers of children with intellectual disabilities with 9,481 mothers of typically developing children, Emerson (2003) found that:
Mothers of children with intellectual disabilities described their child as having had greater social and psychological impact.

They were slightly more likely to have mental health problems.

Their mental health problems were associated with:
- greater social impact of their child's difficulties
- having a son
- the child experiencing more than one potentially stressful life event
- poverty
- receipt of means-tested welfare benefits
- 'Unhealthy' family functioning.
Social isolation

Parents and especially mothers facing all [the] daily routines of care can be socially isolated and restricted by social attitudes concerning appropriate roles for women, especially mothers of children with profound learning difficulties (Shearn and Todd, 2000).
The lack of opportunities to engage in employment can lead to feelings of depression and increased levels of stress (Social Policy Research Unit, 2007).
Mothers face significant lack of personal contact, mentioning they have no one 'to talk to' and a gap in their social networks.
Redmond and Richardson, 2003
Stress
"During my son's short 12 years I have dealt with twelve psychologists, six psychiatrists, seven speech therapists, three social workers and numerous teachers, tutors, home support workers and special needs assistants. Despite all this army of professionals he still ends up being suspended from his special needs school and sent back home to me - the mother, who is expected to do the job nobody else can manage."
"To live with a child with a moderate to severe learning disability means living with a very young child who mentally never leaves the toddler stage, despite physically growing up to be a man or a woman. It means always having to watch over them to prevent accidents and keep doors and windows locked. It means dealing with temper tantrums and sometimes self-injuring behaviour. It means trying to communicate with someone who has no language skills. It could mean changing nappies on a regular basis and bathing and dressing a child who eventually grows into an adult. "
"There's huge levels of stress, and certainly some dark times of course, which can be certainly depressed times and when you can't see a ray of light."
Kingston, 2007
Services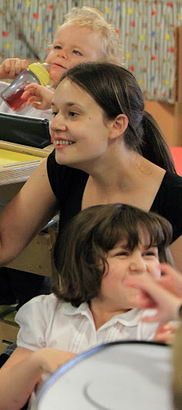 Many services, through their delivery, make the mother in her nurturing role the sole focus for their communication. Is this a fair burden when much of the information that a mother will receive about her child with a disability will be emotionally laden for both parents? When fathers are excluded from the dialogue of care, services fail to access a major resource for the family.

Carpenter, 2007
Mothers frequently referred to the process of gaining useful information on services as 'haphazard' and most of the services offered to them as uncoordinated, unreliable and difficult to access. The study reveals that many of these children's needs are not being adequately met by either the intellectual disability services or the acute medical services, and some families are forced to privately finance services such as physiotherapy and speech therapy.

Redmond and Richardson, 2003
What can schools do for mothers?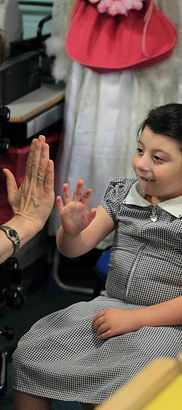 Demonstrate to mothers that you are listening – try to be empathetic, not judgemental. Establishing a partnership with families will demonstrate to families that you are listening to them, whilst providing routes through which families can help you work with their son or daughter.

Keep families in the loop – parents want to know what is going on with their child. In what ways can families be regularly informed with general goings-on around school and relating to their child?

Provide an opportunity for mothers to meet – with many children and young people attending special schools arriving by school transport, parents, particularly mothers, do not meet at the school gate or playground. It is hard for families to build up a friendship if they only meet once a year at the Christmas play. Perhaps a mum's day or regular coffee morning would provide a source of informal emotional support through talking with people in a similar situation, or just having time away from the children to have a laugh!
Meeting the needs of mothers

Note down the different ways in which you could meet the needs of the mothers of children and young people in your classroom.
Develop an action plan.
References

Carpenter, B. (2004) Early Intervention: A 21st-century concept or a lost cause? Paper presented to the European Conference on The European Dimension of Special Education: Emergence of a Different Profile, Thessaloniki, Greece (November).
Carpenter, B. (2007) Family structures, in: Working in Partnership through Early Support: Distance learning text, London: Early Support.
Emerson, E. (2003) Mothers of children and adolescents with intellectual disabilities: social and economic situation, mental health status and self-assessed social and psychological impacts of child's difficulties, Journal of Intellectual Disability Research, 47 (4-5), 385-399.
Hautamaki, A. (1997) Mothers - stress, stressors and strains: outcomes of a cross-Nordic study. In: Carpenter, B. (ed.) Families in Context: Emerging Trends in Family Support and Early Intervention, London: David Fulton.
References

'Kingston, A. (2007) Mothering special needs: a different maternal journey, London: Jessica Kingsley.
Newman, T., McEwen, J., Mackin, H. and Slowley, M. (Barnardo's Policy and Research Unit) (2010) Improving the Wellbeing of Disabled Children (up to Age 8) and their Families through Increasing the Quality and Range of Early Years Interventions, London: Centre for Excellence and Outcomes in Children and Young People's Services (C4EO).
Redmond, B.and Richardson, V. (2003) Just getting on with it: exploring the service needs of mothers who care for young children with severe/profound and life-threatening intellectual disability, Journal of Applied Research in Intellectual Disabilities, 3 (3), 205-218.
Shearn, J. and Todd, S. (2000) Maternal employment and family responsibilities: the perspectives of mothers of children with intellectual disabilities, Journal of Applied Research in Intellectual Disabilities, 13 (3), 109-131.'