Including grandparents
...it is timely for schools to think beyond parent partnerships... Extending this focus to a more holistic 'family-based' approach, including grandparents, would be advantageous...
Mitchell, 2008
...the important role grandparents can play in supporting families with and without disabled children, especially in terms of childcare for working parents,... [means that, for] teachers, grandparents may be a first or, at least, significant point of contact with a child's home life, providing important information about their current home situation and learning.

Mitchell, 2008
The role of the
grandparent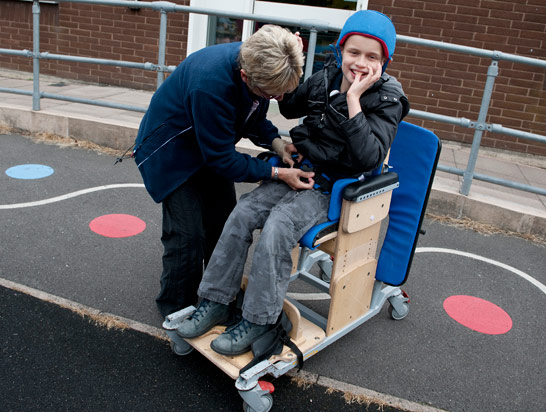 Read more about the role grandparents can play in the lives of children with disabilities.


Creating a receptive environment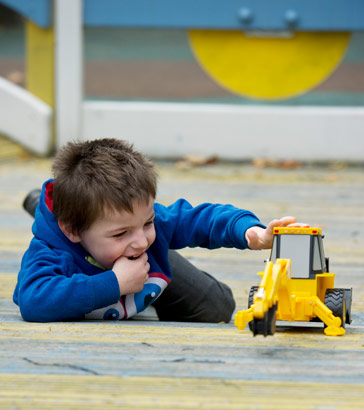 Creating an environment that is receptive to grandparents and other extended family members encourages a pattern of support between parents and grandparents (Mirfin-Veitch and Bray, 1997). However, not every family will have close bonds between parents and grandparents and other dynamics within a family can affect the relationship (Mirfin-Veitch and Bray, 1997).

The process of grandparents' grief may increase stress on their children who feel the burden of their parents' need for support and assurance. Alternatively, parents who are finding the reality of their child's diagnosis difficult may not appreciate hearing possibly outdated views or advice from grandparents.
How can schools
support grandparents?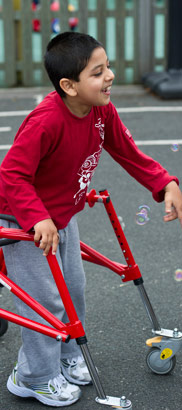 Provide information – grandparents may find it easier to accept their grandchild's diagnosis when they know more about their needs and their potential. Greater understanding may increase the effectiveness of their support to their family.
Facilitate opportunities for grandparents to meet – grandparents may not wish to burden their children with their feelings. Schools which provide opportunities for grandparents to meet enable them to share emotions and information and perhaps gain a broader perspective, leading to a more active role in their family (Seligman and Darling, 2007).
Grandparent workshops – can encourage informal support within some families, although family dynamics may make this difficult. A child's disability is unlikely to challenge an already involved grandparent, or encourage involvement in someone previously minimally involved (Mirfin-Veitch and Bray, 1997).
How can schools support grandparents?

Think families not parents – many grandparents take on great responsibility for the care of their grandchild; do your school policies and environment reflect this? Might some grandparents feel alienated by 'Parents' room' (should it be 'Family room'?) or unwelcome on the Parents and Teachers Committee?
Encourage grandparents to be involved – grandparents who spend time with their grandchild can offer additional insights about them. How can you encourage them to share this and take a more active role? Are they invited to annual reviews or open days along with parents? Can they write in the home/school diary?
Share skills – grandparents could contribute in a creative way. Many will have skills (e.g. cooking, knitting and woodwork) which are valuable to your school and children.
Communicate – grandparents are likely to appreciate a letter or a photograph from their grandchild to tell them what they have been doing.
Including grandparents in practice
It is important to recognize…that grandparents need to be invited into school and made to feel welcome and 'at ease'. Grandparent links do not 'just happen'; they need to be nurtured in a similar manner to 'parent partnerships'.

Mitchell, 2008
Speak to the parents of the children or young people with learning difficulties in your class. Find out whether they would like grandparents (or maybe significant others) to be included in class contact with families. A first step could be to support the young person to send artwork or photos once a term.
References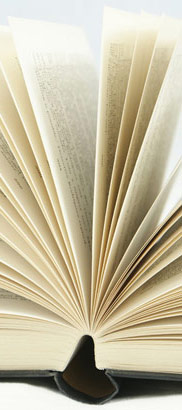 Limbrick, P., with Meyer, D. andT homas, J. (2009) An alphabet of helpful hints: G is for grandparents' TACJournal, 2 (7).
Mirfin-Veitch, B. and Bray, A. (1997) Grandparents: part of the family' in: Carpenter, B. (ed.) Families in Context: Emerging trends in family support and early intervention. London: David Fulton.
Murray, R. (2009) Issues for practitioners in supporting grandparents, TAC Journal, 2 (7).
Mitchell, W. (2008) The role played by grandparents in family support and learning: considerations for mainstream and special schools, Support for Learning, 23 (3), 127-135.
Seligman, M. and Darling, R.B. (2007) Ordinary Families, Special Children: A systems approach to childhood disability (3rd edn), New York: Guilford Press.