The impact of challenging behaviour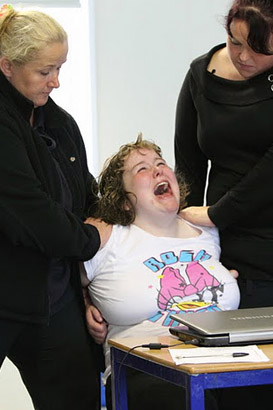 A child's behaviour not only affects themselves, their peers and school staff, it also has an impact on their family and the community in which they live.
Aggressive and challenging behaviour can affect the families' quality of life, their emotional well-being and their relationships.
Challenging behaviour is the main reason why children are placed in residential schools (Abbott et al, 2000) and is also a key factor for families being unable to access short breaks (or respite care) and/or the child being unable to access educational, therapeutic and/or community or social activities (Kahng and DeLeon, 2008).
There are, therefore, emotional and practical reasons for schools and families to work together to promote positive behaviour.
The effect on family life
Listen to this audio clip where Ruth, Emma's mother, talks about the effect of Emma's behaviour on family life.
Stress and emotional reactions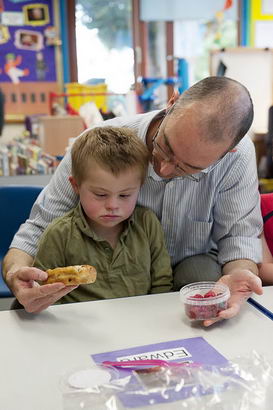 Having a child born into the family with complex needs is an unexpected event and shifts the parents' world view. The shift depends on making both emotional and practical sense of what has happened.
Much has been written on how parents of children with a disability go through a period of mourning the loss of their idealised child. However, that view has been challenged and it is now recognised that parents go through different emotional reactions rather than following a set pattern.
Ruth's feelings
Listen to this audio clip where Ruth, Emma's mother, talks about how she felt when Emma's condition was diagnosed.
Practical issues
There are also practical problems that cause stress for the parents of children with complex needs. These practical problems include:
Time
It is estimated that the majority of parents spend over 10 hours a day on basic physical care (eating, toileting, dressing etc).
Finance
Families with a disabled child have lower incomes because:
Mothers are less likely to work

Fathers experience reduced job opportunities
There is also greater expenditure in areas such as washing, clothes, transport and holidays
Housing
Families are more likely to be living in housing which they consider inadequate and/or unsuitable.
The impact on the family
Listen to this audio clip where Simon, Harvey's father, talks about having to move house.
Stress and emotional support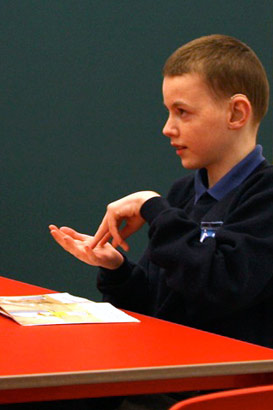 The stress on families with children with complex needs is now recognised. We know that limited skills to manage their child's behaviour and the severity of the child's behavioural problem are associated with high levels of maternal stress (for example, Baker et al, 2003; Quine and Pahl, 1989).
Schools can offer emotional and practical support for families with children with complex needs, for example by:
Communicating with parents and working with them to ensure continuity of care between home and school

Offering information about services, and

Offering advice and training to help parents develop the skills they need to develop a positive relationship with their child and manage their challenging behaviour.
Support from school
Listen to this audio clip where Ruth, Emma's mother, talks about the support she receives from Emma's school.
Providing support

Audit the practice in your school and discuss with colleagues what emotional and practical support your school gives to parents.
Is there anything that you could do better?
Devise a strategic action plan to improve practice.
Monitor the implementation of the action plan and evaluate the effectiveness of the changes you make.
Further reading

Abbott, D., Morris, J. and Ward, L. (2000) Disabled Children and Residential Schools: A survey of local authority policy and practice, Bristol: Norah Fry Research Centre, University of Bristol.
Baker, B.L., McIntyre, L., Blacher, J., Crinic, K., Edelbrook, C. and Low, C. (2003) Pre-school children with and without developmental delay: behaviour problems and parenting stress over time, Journal of Intellectual Disability Research, 47: 217-30.
Kahng, S. and DeLeon, I. (2008) Behavior management, in P.J. Pasquale (ed.), Neurodevelopment Disabilities in Infancy and Childhood. Volume I: Neurodevelopment Diagnosis and Treatment, Baltimore: P.H. Brookes.
Quine, L. and Pahl, J. (1989) Stress and Coping in Families Caring for a Child with Severe Mental Handicap: A longitudinal study, Kent: Institute of Social and Applied Psychology and Centre for Health Services Studies, University of Kent.
Sloper, T. (2000) Meeting the needs of disabled children, Department of Health.