Harry's story

Harry is a four year old male with a diagnosis of pelizaeus merzbacher disease, a rare disorder of the central nervous system in which co-ordination, motor abilities, and intellectual function are variously delayed. Harry loves other children and will interact with staff. He has no problems with his hearing but he suffers from:
Significantly delayed acquisition of play and learning skills;

Severely delayed receptive and expressive language skills;

Severe visual impairment;
Significant difficulties with mobility, gross and fine motor skills; and

Sensory processing difficulties.
Because of these complex needs, Harry has communication difficulties. He is clearly a very alert little boy who greatly enjoys interaction with adults, but whose future achievements could well be limited by his physical and medical difficulties. The school feels it must enable Harry to be able to communicate with others effectively and have as much control over his environment as he can.
What the future
holds for Harry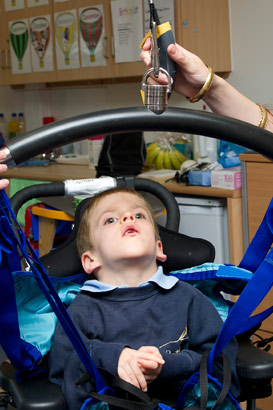 The main professionals involved with Harry are a:
Speech and language therapist;

Occupational therapist;

Paediatrician;

Physiotherapist

Qualified Teacher of the Visually Impaired – sensory consortium;

Community paediatric physiotherapist.
The resources that follow in this module will help you see how the act of engaging Harry in his learning will help him develop the communication skills that will unlock a wider world for him.