Introduction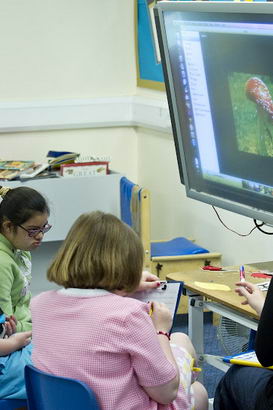 Here we look at the planning and effort involved in developing and sustaining assessment and intervention strategies for alternative and augmentative communication (AAC) for pupils with severe, profound and complex learning difficulties and disabilities.
There is a particular focus on establishing the effective use of high-tech communication aids.
Using eye gaze technology
This video shows Jack, who is in the early stages of using eye gaze technology. We shall be using Jack as a case study throughout
these resources.
Read more about Jack here.
Seating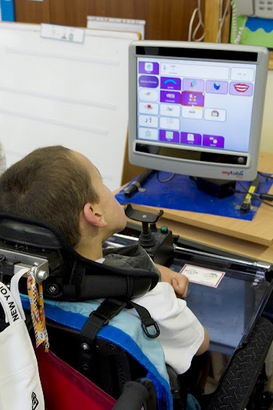 In the case of Jack, getting his seating right has taken time and has slowed up the introduction of the intervention for developing his ICT skills.
Seating is an important starting point when assessing an individual's needs. Even if a pupil does not require specialist furniture, a good seating position must be ensured. Jack required a high degree of supportive seating due to his physical disabilities and, although the school was ready to pay, it took a long time to identify correct functional seating.
This underlines the importance of collaboration between school staff, therapists (physiotherapists, occupational therapists and speech and language therapists), and parents.
Positioning
The positioning of the pupil and the ICT equipment required a number of adjustments in Jack's case. Again, it took some time to identify a suitable mounting arm for Jack's new chair to which his computer could be attached.
Staff have to be vigilant and prepared to make positional adjustments when Jack tires and to ensure that he is comfortable and able to see the screen easily. Above all, Jack still needs to be part of the class group and be able to see and interact with his class mates and teachers at all times.
What support do you have from therapists? Are they encouraged to participate in your assessments of a pupil's AAC need?
Equipment and staff training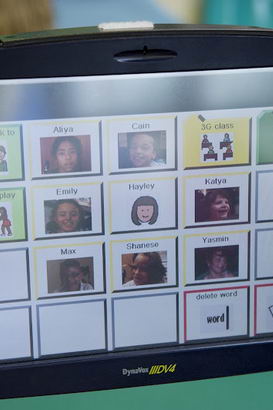 Identifying reliable ICT equipment (monitors, keyboards, joysticks, switches, etc.) is crucial. Jack's team had the benefit of support from experienced staff at the ACE Centre in Oldham who were able to loan two different computer systems to try out with Jack. Key school staff were trained appropriately so that they are able to make adjustments to the operation of the ICT that have to made from time to time. A particular risk for Jack is that these skilled staff may eventually move out of his life and he will move out of his primary school within two years.
In your context is this the work of a few specially trained staff? Or are all staff trained to an appropriate level? What can be done to ensure that the equipment moves with the pupil? What can be done to train all people in all settings who work with the pupil, including family members?
Investigating sensory ability
In Jack's case there were no major concerns about his sensory abilities, although reflexive physical spasms can sometimes interfere with his use of steady eye gaze. Teaching him to use eye pointing to make choices using low-tech systems was a very important part of his early education at school.
The sensory abilities of pupils with severe and complex needs do need investigating when assessing for AAC. What a pupil can hear and see will determine whether and how ICT can be used as an AAC tool.
In your context, who assesses hearing and vision? Do they have input to the multidisciplinary team developing the
AAC strategy?
Assessing contingency awareness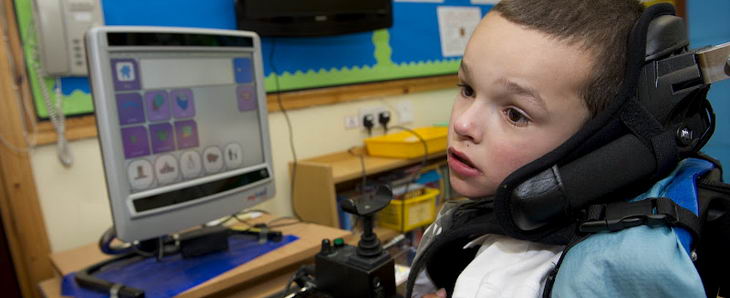 Jack clearly understands the causal relationship between his eye gaze and what happens on the computer screen. For some pupils, however, contingency awareness may take a long time to develop and they will have difficulties with the use of such devices as joysticks and other specialist switches.
The pupil's level of cognition and learning difficulty must be carefully assessed when considering AAC.
The importance of teamwork (1)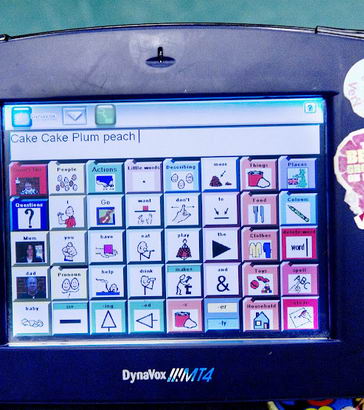 The success with Jack has been due to people recognising the importance of teamwork. Where there have been problems it has been because people have not been able to contribute effectively to the work of the team, as evidenced in the difficulty in sourcing an appropriate chair
for Jack.
Teamwork in AAC development requires a small army of knowledgeable professionals and carers to work together: teachers, teaching assistants, therapists, close family members,
specialist advisers.
The importance of teamwork (2)

Effective teamwork requires co-ordination and someone needs to be identified as the case co-ordinator. This person has to ensure that people are brought together to work together both to maintain a forward momentum and to ensure that potential obstacles are overcome.
In your context, who is best placed to be the co-ordinator? It is unlikely to be the busy class teacher or headteacher. Is it a therapist? Or must it be a school leader who is empowered to make strategic as well as financial decisions?
Planning for development and renewal
Jack's complex needs require a complex solution tailored to meet them. This requires considerable investment in training and support, the cost of which has probably exceeded the cost of the seating, positioning equipment, hardware and software already. Also, Jack's supporters have to be alive to the fact that this is a rapidly changing world in which technology relentlessly changes. In a few years, Jack's expensive ICT will look increasingly old-fashioned and may even wear out. Somebody has to keep abreast of these issues and ensure that within his school there is adequate planning for ICT development and renewal.
In your context, do you have such a plan? Do these demands mean that there has to be an additional teacher or teaching assistant as well as technician support? Can you quantify what this provision will mean in your context?
Managing time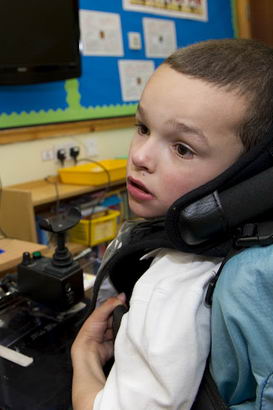 The experience in Jack's school was that the regular class team simply did not have the time to develop a package to meet his needs, to develop their skills and to develop the resource. Time was required to plan and meet with colleagues and family members as well. The school found it expedient to dedicate a specialist teaching assistant to work with Jack (and others) in the initial stages and her role has been to support colleagues until they reach a point where they can begin to take over. This same assistant could then spend additional time with Jack and colleagues at times of transition, eg change of class, change of chair, introduction of new software.
In your context, do staff have time set aside for reviews, for planning, for making resources, etc? How can you provide the support for busy class teams for complex changes?